You are our Priority!
Proactive system to resolve your issues swiftly!
Overview
Premium Support provides access to a dedicated team of experts to whom you can post your issues using the Premium Support web portal. A tech will be assigned to help you and give you a rapid response. You can receive help and advice on all aspects of the Kayako product. Premium Support is also well-suited to new users and customers who prefer phone support and require support while they are still getting used to the software.
Guaranteed ticket response in 2 hours on business day and within 14 hours on a non-business day.
Premium Support does not handle bug submission nor do we fix bugs in the software. We can however help you, if possible, work around bugs or identify that you have a bug.
How it works
The complete process is streamlined to provide you with rapid support and swift resolutions to your issues.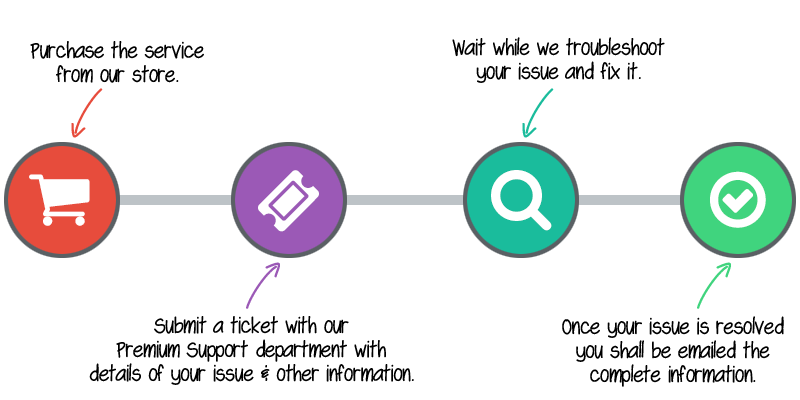 What do you get on purchase of this service
Priority Support – Your issues will be swiftly looked into and resolved.
Unlimited submission of queries to our experts.
Dedicated expert to look into all your issues.
Phone support – We can arrange phone support for you if in case it is required.
Our service is designed to maximize benefits offered to you, however you should consider the following before you purchase the services.
Things to consider before purchasing
Support is provided only in English.
Support is provided during business hours – Monday – Friday, 11:00 AM to 08:00 PM Indian Standard Time (GMT +5.5). Any ticket submitted during non-business hours will be considered to have been submitted on 11:00 AM on the next business day.
Phone support will be arranged after deciding upon a suitable time when we can call you.
Refunds are not possible once we start providing your premium support for your issues.
We do

not

fix bugs found in the software.
Premium Support does not include setting or upgrading your software build. You will have to purchase those services separately.
Premium Support does not include any kind of training.
Ticket response may not lead to ticket resolution. Ticket resolution depends upon the issue you are reporting.
What information is required
The information requested depends upon the issue you have. In general, the following information can be requested to troubleshoot and fix an ongoing problem.
Control panel access information – cPanel / PLESK.
FTP access information – FTP host, Username, Password and the directory in which the software has been installed in.
Kayako Members Area access information.
Helpdesk access information – URL, Admin user login username and password.
Root access to the server can be required in certain cases.
Billing for this service is recurring. If you wish to cancel the recurring payment, please contact our
Sales Department
.
What Next
Have you already placed your order? If yes, then please create a support ticket with our Premium Support department. If you have already emailed us the information, please be patient while we troubleshoot and fix your issue.
Still have questions?
If you still have questions regarding this service then please feel free to contact us by clicking on the button below. We would be happy to help you!
Contact Us