Stay up to date!
Extended support & upgrade period for your customized Email templates.
Overview
It is always a good habit to keep your software solution up to date. However with every update comes new challenges. Some of the upgrades may require you to re-do the customized templates. Which means you will end up loosing all your customization once you restore the templates. And if you fail to restore the templates, the software may not function as expected. Tricky situation right? What now! Do not worry, we shall take care of that as well!!
SupportSkins provides a simple update and support policy for all of its customized services. This policy has remained the same for over half a decade. With purchase of our email customization services you are entitled to a free support and upgrade period for the modified templates for a period of 90 days. Which means if Kayako were to release a new build within this time frame then we shall upgrade the modified templates to support the new build at no extra cost!
When Your Free Upgrade Period Expires
After your period of free upgrades runs out, you can continue using the customized email templates without any problems. If a new Kayako update comes out which requires you to restore and re-do the customized email templates then you can purchase an extended upgrade period.
This extended upgrade period allows you further update and support for the modified templates for a period of 180 days from the date of renewal.
Please note, you are under no obligation to purchase an upgrade period on purchase of our customized services. You decide when you want to upgrade your support solution and when you want to purchase the upgrade period.
How it works
The complete template upgrade process has been streamlined to complete the process as soon as possible keeping the downtime to an absolute minimum.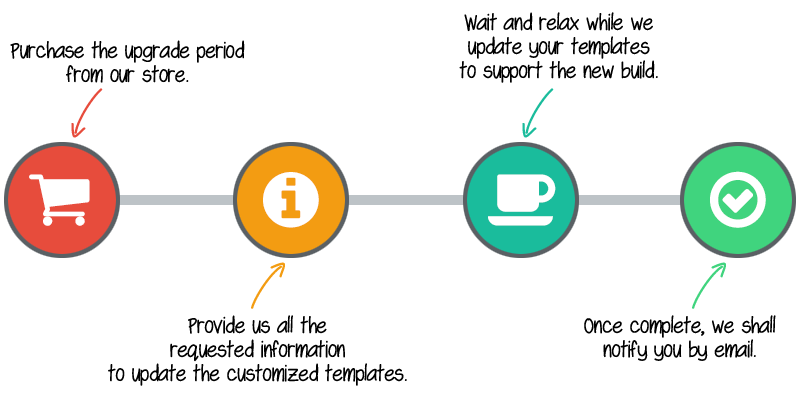 What do you get on purchase of the upgrade period
Updates and support period will be extended by 180 days from the date of renewal.
Hassle free updates – We shall maintain your customized templates keeping them up to date to support the new builds.
Fixing any bugs found in the customized templates during this period at no additional cost.
Our services are of the best quality, however you should consider the following before you purchase the services.
Things to consider before purchasing
Purchase of support and upgrade period for email templates

does not

cover support and updates for customized skin templates. That has to be purchased separately.
Purchase of support and upgrade period extends support for the already modified email templates. This does not cover modifications done to any new templates.
Purchase of support and upgrade period does not cover re-designing of email templates. You will have to re-purchase the Email Customization services for that.
Purchase of support and upgrade period extends support to email templates customized by SupportSkins only. We

do not

support modifications done by third-party.
What information is required
To upgrade the customized email templates, we shall require the following information.
FTP access information – FTP host, Username, Password and the path to the directory in which the software has been installed in.
Access information to your helpdesk – URL, Admin Username and Password.
Please inform our staff if you are have modified the email templates after we implemented them on your support solution when you purchased the Email Customization services from us.
What Next
Have you already placed your order? If yes, then please email us the above requested information so we can upgrade your customized email templates. If you have already emailed us the information, please be patient while we update the templates.
Still have questions?
If you still have questions regarding the support and upgrade period then please feel free to contact us by clicking on the button below. We would be happy to help you!
Contact Us