Stop frustrating your clients!
Stop asking them to login every time they wish to check the status of their tickets.
Overview
Do your clients have to log in everytime they wish to view the status of their tickets? Do they need to look up for their password to log into your support center? Sounds quite a task already! Do not be astonished if they might just frustrated with you. Do not wait till that actually happens.
Get our Auto Login Module today! The module when installed will automatically log your client into the system and take him straight back to the ticket he created when he clicks on the link in the email he receives from your system. He can not only view the ticket but can also post a new reply.
Wait, there is more…
Lets say your client marked another user email address as CC when he created a ticket in the helpdesk and this CC user too gets an email saying "Click here to check your ticket status". What now?
Not to worry, according to our module this User who was marked as a CC email when clicks on the link to check the ticket status will be able to view the ticket however he will not have permissions to edit the ticket nor can be post a reply to the ticket from the helpdesk. This way we are protecting all the information your client has submitted in the helpdesk, not allowing this other user to either view or edit it.
The Auto Login module add links which allows clients to directly access their tickets for the following email types:
– Auto responder emails
– New ticket emails
– Staff reply emails
– Email forwards
– Auto close emails
How it works
The complete process is streamlined to understand your requirements and execute them efficiently.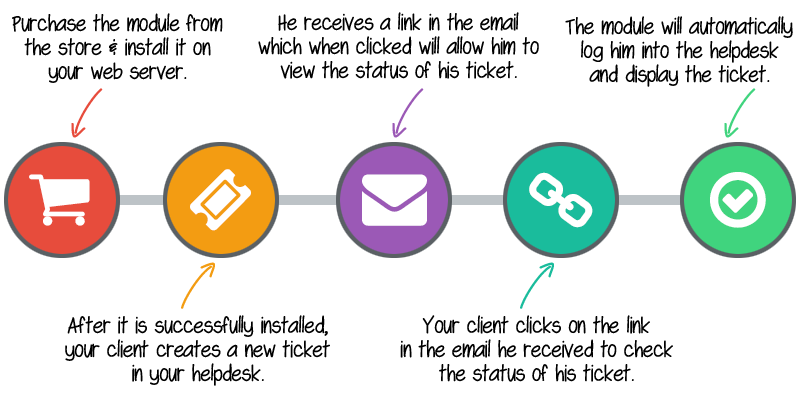 The complete process is also captured using screenshots which can be found as under.
Demo Details
Wish to try out the module? Feel free to do so using the following demo installation details:
Kayako helpdesk URL – https://www.supportskins.com/mods/
Staff login details to try out for emails for staff replies:
Kayako URL – https://www.supportskins.com/mods/staff/
Username/Password – staff/staffdemo123
Parsed email queue address – modsdemo@supportskins.com
If your product version is not mentioned in the compatible version list, please contact our Sales department to check if we can some how make the module compatible for the version you are using. If feasible, we shall gladly do it for you!
Current Build
Current stable build for this module is v1.07 released on 22, May, 2015.
What do you get on purchase of the Auto Login module
Feature enhancement – The module incorporates new features in your helpdesk system enhancing your client experience with your helpdesk which means you will have an always happy clients leading to successful business.
Free updates – You are entitled to free updates for the purchased module for a period of 1 year from the date of purchase.
Support for latest releases – We ensure the module support's the latest stable releases; irrespective if it is a major or a minor release. We expect to release updates for the module within 2-3 days after Kayako releases a stable build.
Top notch support – You will be entitled to priority support (not our premium support services) where your issues with be addressed as soon as possible.
Support for CC and BCC users – They do get a link to view the ticket in their emails.
Very secure – BCC & CC users only get to view the ticket. They do not have permissions to edit ticket properties nor can they reply to the ticket from the system.
Our service is designed to improve your Kayako product's functionality however you should consider the following before you purchase this module.
Things to consider before purchasing
The module is available only for Kayako Download users. This module does not work on Kayako onDemand solutions.
The module works for Kayako Fusion and Kayako Resolve products.
The module requires Kayako v4.65.0.5460 or higher to work without any issues.
All our modules are encoded using ionCube encoders. You will need to make sure ionCube loaders are pre-installed on your web server on which you are installing the modules on.
This module is License (Domain) restricted. Which means you can install and use these modules on 1 domain. For instance, a modules purchased and installed on supportdomain.com cannot be used again for supportdomain2.com. You will have to purchase a new license key for supportdomain2.com.
Refunds will not be processed once you have downloaded the module and installed on your web server.
What Next
Have you already placed your order? If yes, please be patient while verify your order and process it.
Still have questions?
If you still have questions regarding this module then please feel free to contact us by clicking on the button below. We would be happy to help you!
Contact Us